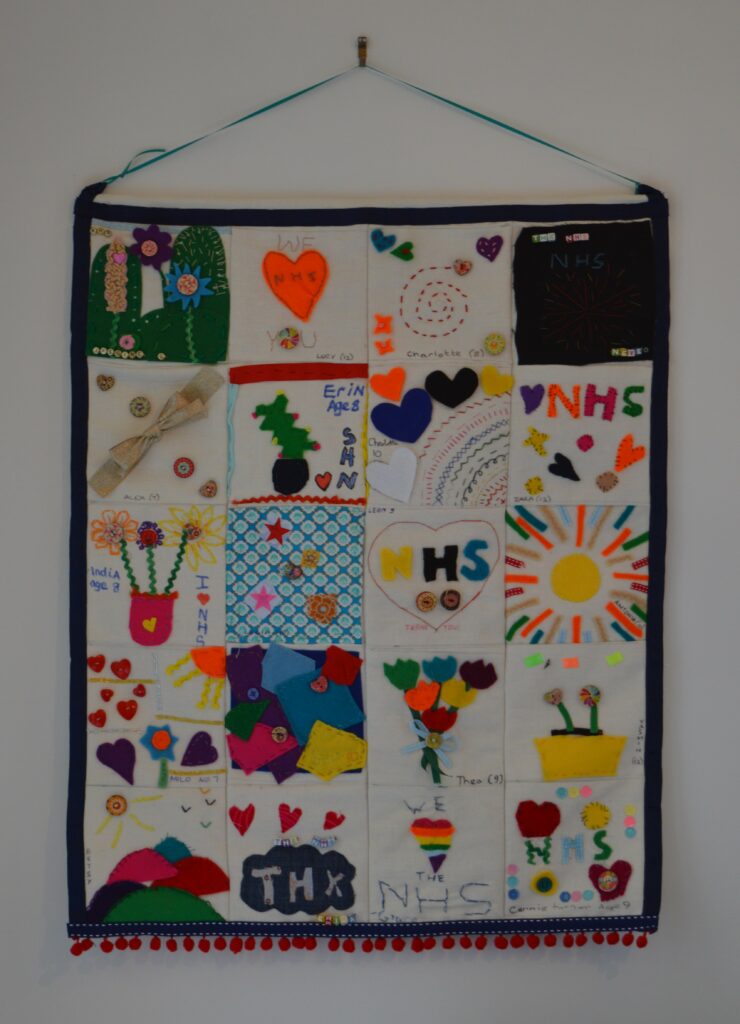 Well what a year it has been! Despite the difficult circumstances, there have been some real highs and lows but what I found was my passion for sewing helped me through. Sewing can be therapeutic, relaxing and can also bring people together. It also turned out to be my busiest year yet.
At the beginning of the year my after school sewing club resumed and the children made some amazing cushions inspired by Matisse cut outs. Luckily most of them managed to complete them before we had to stop the club due to lockdown restrictions.
A couple of weeks into the first lockdown, I was asked by a charity organisation delivering meals to NHS staff at St. Georges's Hospital, if I could create some sort of banner to thank staff for all their hard work. I enlisted the help of some of the children, past and present from my sewing club and asked them to sew a square of fabric to make up the banner. I delivered little parcels of fabric, buttons and ribbons and awaited their return. I was overwhelmed that 19 children wanted to take part and when their envelopes were posted back to me, it was like opening a little of bit of joy. I couldn't believe the care and attention the children had put into their designs. I sewed them together and presented it to a senior nurse at the hospital and she was absolutely delighted to receive it and thought it would definitely raise staff spirits.
It continued to be a busy time as I helped make scrubs including scrub caps, scrub washbags and gowns. I also helped a local lady make face masks to raise money for charity and together we raised around £600.
Alongside this, I was working on private commissions. I think having spent so much time at home either working or isolating, people felt the need to alter or improve their home environment by adding or changing cushions and choosing fabrics for blinds and curtains. It was lovely to be able to continue to work and keep busy during this time.
Finally I have finished the year by contributing once again to our local Christmas market at @sprout_arts_london that amazingly still managed to pull together over 30 craftspeople to sell their wares in a safe environment. We just about managed two weeks before having to close again but really felt more than ever that people wanted to support small businesses by buying handcrafted products made locally.
My order book is already filling up for the New Year so I look forward to another busy year.
Thank you to everyone who has either commissioned me or bought one of my products. It is truly appreciated. Keep safe xx